Product Name
:Gabion ( woven)
Product Info
:
Gabions box sizes:
2m x 1m x 1m, 3m x 1m x 1m, 4m x 1m x 1m, 2m x 1m x 0.5m, 4m x 1m x 0.5m. Custom orders available.
Finish can be hot-dipped galvanized, galvanized aluminum alloy, Galfan or PVC coated, etc.
Gabion boxes applications: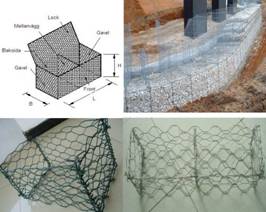 Flood bank or guiding bank
Control and guide of water or flood
Preventing of rock breaking
Water and soil protection
Bridge protection
Strengthening structure of soil
Protection engineering of seaside area.
Hexagonal Wire Netting Gabions

Opening
(mm)

Wire Diameter(Metal Wire)
(mm)

Wire Diameter (PVC Coate)/
Inner/Outside(mm)

Strands

60X80

2.0---2.8

2.0/3.0---2.5/3.5

3

80X100

2.0---3.2

2.0/3.0---2.8/3.8

3

80X120

2.0---3.2

2.0/3.0---2.8/3.8

3

100X120

2.0---3.4

2.0/3.0---2.8/3.8

3

100X150

2.0---3.4

2.0/3.0---2.8/3.8

3

120X150

2.0---4.0

2.0/3.0---3.0/4.0

3
2. Gabion Matterres:
Mattresses, like gabions, are also rectangular steel wire mesh cages but they are smaller in height (less than 0.5m). They are also used for sea and lake shore protection, river training, erosion control, soil retention and road and railway consructions ...etc

Gabion Mattresses

Mesh Opening of 50x70mm

Length (a) (m)

Width (c) (m)

Height (b) (m)

Tolerances

3,00
4,00
5,00
6,00

2,00 2,00 2,00 2,00

0,15-0,20-0,25-0,30

Length 3 %
Width 5 %
Height 5%

Gabion Mattresses

Mesh Opening of 60x80mm

Length (a) (m)

Width (c) (m)

Height (b) (m)

Tolerances

3,00
4,00
5,00
6,00

2,00 2,00 2,00 2,00

0,13-0,23
-0,30

Length 3%
Width 5%
Height 5%

Galvanised & PVC coated wire used. General binding wire 2.2mm